Calendar - Luxury 420 Gloss One Side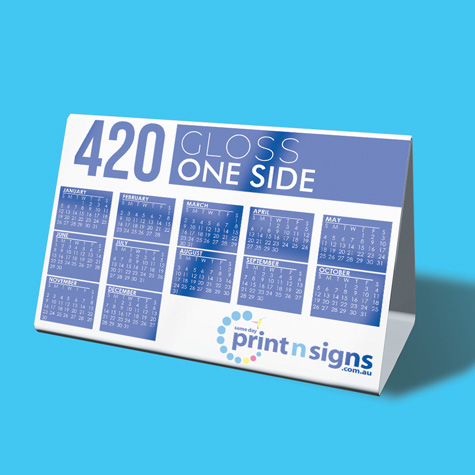 Luxury 420gsm Gloss One Side
Our range of seven calendars means you can choose the exact size and shape that will best suit your recipients, or your own marketing purposes. Our pocket and pocket tent calendars take up so little space and yet they can communicate everything you need – contact details and special dates – and are designed to slip into a wallet for convenient reference. On the other hand, use our A4 and A5 calendars with easy-to-read dates for quick reference and plenty of room to include your advertising messages.
Size
Quantity
Price
A5 (210x148) magnets affixed
250
$ 433.84
500
$ 510.40
1000
$ 563.20
2000
$ 1,091.20
5000
$ 2,310.00
10000
$ 4,466.00
View More
Download free templates to assist you in creating your file.
| | | | | | |
| --- | --- | --- | --- | --- | --- |
| DL (210x99) magnets affixed | | | | | |
| A5 (210x148) magnets affixed | | | | | |
| A4 (210x297) magnets affixed | | | | | |
| A6 (145x95) magnets affixed | | | | | |
| DL Tent (275x170) die cut | | | | | |
| DL Layback (228x99) die cut | | | | | |