Calendar - Luxury 420 Matt Two Sides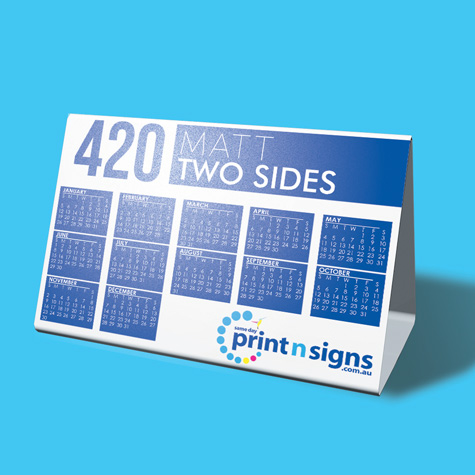 Luxury 420gsm Matt Two Sides
When you want a calendar that literally stands out, consider one of our three-dimensional designs. Both our layback and tent calendars are delivered flat, but have been specially die cut so they are easy to assemble. More importantly, they sit unaided on counters, shelves or desks, meaning they're in their peripheral view of customers and prospects. Position your company's logo in several places so recipients know exactly who you are.
Size
Quantity
Price
A5 (210x148) magnets affixed
250
$ 455.84
500
$ 532.40
1000
$ 585.20
2000
$ 1,135.20
5000
$ 2,351.25
10000
$ 4,548.50
View More
Download free templates to assist you in creating your file.
| | | | | | |
| --- | --- | --- | --- | --- | --- |
| DL (210x99) magnets affixed | | | | | |
| A5 (210x148) magnets affixed | | | | | |
| A4 (210x297) magnets affixed | | | | | |
| A6 (145x95) magnets affixed | | | | | |
| DL Tent (275x170) die cut | | | | | |
| DL Layback (228x99) die cut | | | | | |