Same Day Business Card 350GSM (1hr dispatch avail) (Business Cards)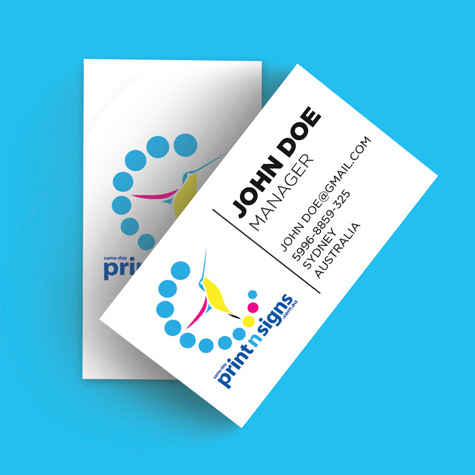 Same Day Business Cards
350gsm Art Board
90mm x 55mm - 55mm x 55mm square - Or any custom size
Need business cards NOW?
Our same day business cards are the answer, printed in full colour on quality 350gsm art board. The same day business card is the solution to your emergency!
1 Hour Express Service available
- Your Business Cards can be picked-up from our Penrith store in 1 hour or dispatched on our next available courier (applies Monday - Friday. If required on a weekend, please contact us (02) 4722 4646)
Select 1 Hour Express Service when ordering
6 BUSINESS HOURS
Order your business cards before 10am AEST and pick up at our Penrith store after 4pm.
Can't pick up?
Order by 10am AEST or use our 1HOUR EXPRESS SERVICE before 2pm AEST and we can dispatch same day via Australia Post for next day delivery to Sydney, Melbourne, Brisbane, Adelaide, Perth, Canberra, Hobart, Darwin and metro areas (subject to Australia Post next day delivery network service).
Size
Quantity
Price
90 x 55
100
$ 22.00
250
$ 55.00
500
$ 77.00
1000
$ 99.00
2000
$ 187.00
55 x 55
100
$ 22.00
View More